Located in Reigate, we are a team of creative designers, brand strategists and web developers with over 25 years experience helping clients both large and small across a diversity of sectors.
Our collaborative approach means we take time to really listen, to understand and to challenge your brief. Every project is handled with care, curiosity and creativity to engage your audience and position your brand.
If your brand no longer reflects your business, your website is not talking to your audience or your marketing needs support, our team can help.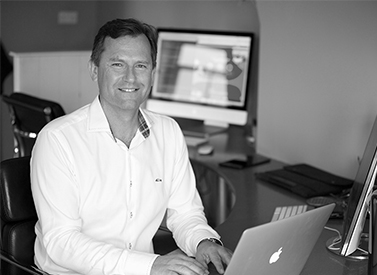 SIMON KNIBBS
FOUNDER & CREATIVE DIRECTOR
Audi, PWC, Shell and Toyota, Simon can name-drop with the best of them, but it is his ability to transfer this experience to SMEs and Start-ups that really ignites his creativity. Working with some of the same clients for over 22 years, he is involved with every project, from its inception when his strategic thinking, insight and imagination can launch a project on its best course, through to delivery and ongoing management. All this leaves little time for his other passions of cycling, skiing and fly fishing!
My favourite quote:
"Tigger's can't bounce down, tigger's can only bounce up!"
Who would play you in the movie about your life?
Orlando Bloom (I think that's because I want to be a swashbuckling elf who always saves the day!)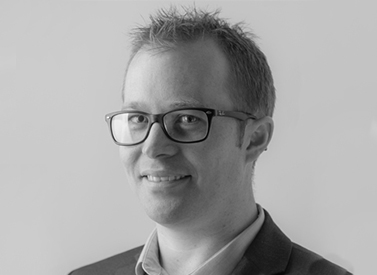 CHRIS AVERY
SEO SPECIALIST & DIGITAL MARKETEER
Chris is a sorcerer of search and a magician of online marketing, well he's got a firm grasp on the dark arts of SEO and worships at the alter of Google. So if ranking for certain search terms is crucial to your business he needs to be involved from the start to align SEO strategy with online content and user experience. He's a keen golfer and very early riser.
My favourite quote:
"No one ever said on their death bed 'I wish I'd spent more time at the office.' " - Harold Kushner
Who would play you in the movie about your life?
I would like to say the Rock, but given the obvious physical differences I think it would make more sense for someone like Tom Hanks since he never seems to be in a bad movie!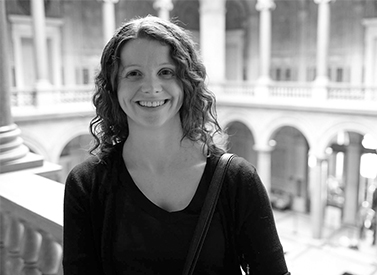 LIZ KEMP
SENIOR DESIGNER & DEVELOPER
With over 15 years creative experience, Liz joined Knibbs in 2013 and leads the design and development of our digital projects. She relishes simplifying complex information to create delightful digital experiences believing that user experience is key in creating websites that really deliver for our clients. Her early career as an Architect brings sector knowledge and invaluable insight and expertise to our construction clients. Her heart is in design, but her head is full of elegant code.
My favourite quote:
"How do you spell love, Pooh? You don't spell it Piglet - you feel it."
Who would play you in the movie about your life?
Helena Bonham Carter - I love her quirky strength and she is my hair's alter ego!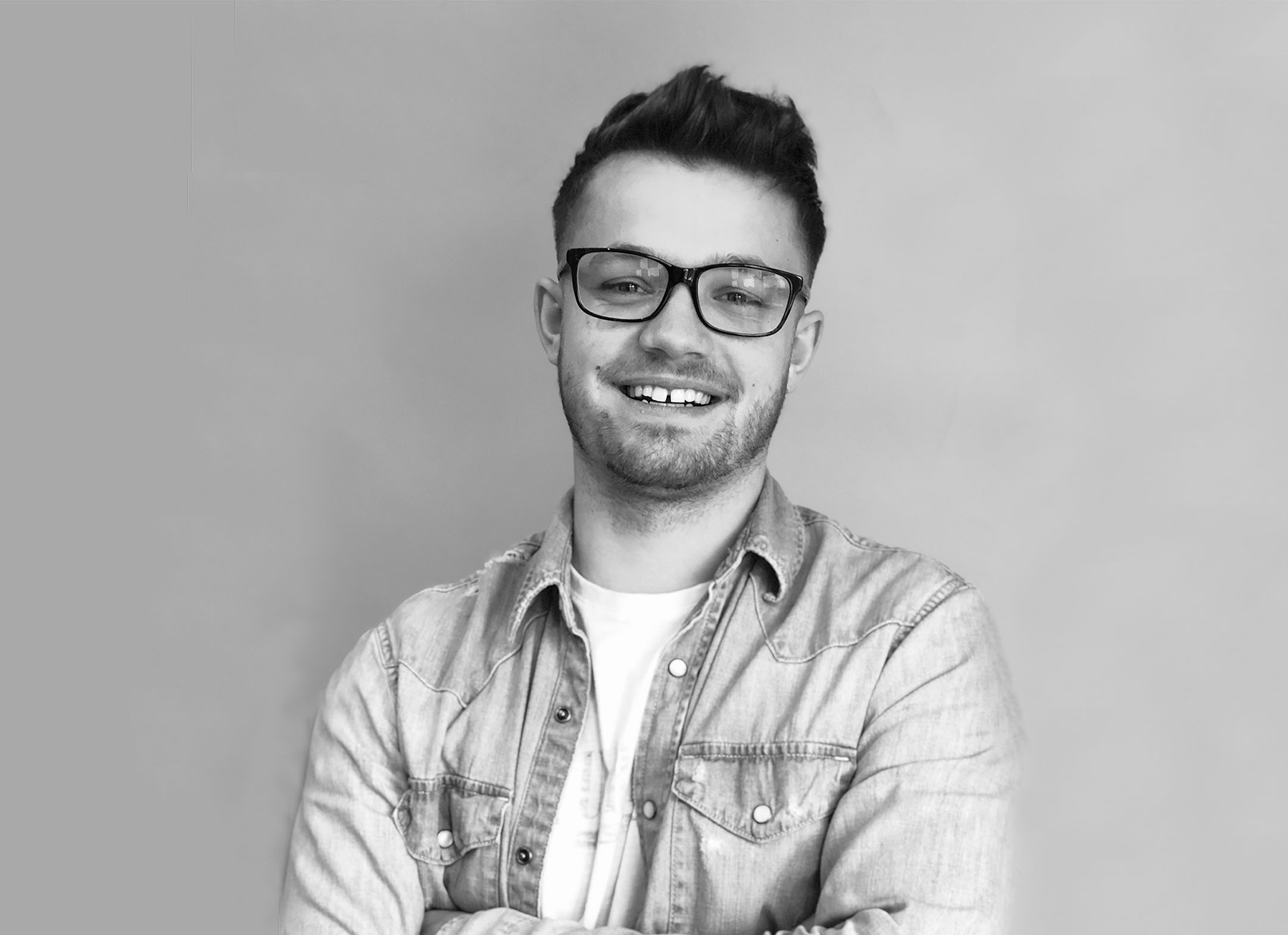 ELLIOT SMITH
JUNIOR GRAPHIC DESIGNER
A product designer venturing into the graphic design world whilst on his year in industry from Loughborough University; Elliot is striving towards being proficient in web development and digital design, having started where MySpace was his only web design background! He is a passionate designer and full of enthusiasm. In his short time with us, Elliot has gone from a complete novice to leading web development projects, driven by his huge desire to learn.
When he's not glued to the Adobe Suite, you will find him in the terraces of a football stadium losing his voice or learning new carpentry skills.
My favourite quote:
"Po-tay-toes! Boil 'em, mash 'em, stick 'em in a stew." Samwise Gamgee
Who would play you in the movie about your life?
Jon Snow (as I really know nothing!)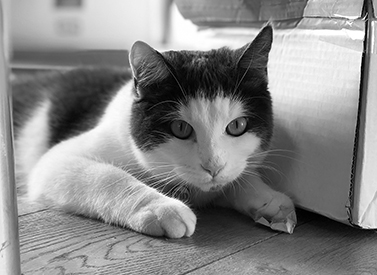 milo
CHIEF POST-IT NOTE CHASER
Milo is the youngest member of the team and can nearly type his own name if he sits on the right side of the keyboard. (It could happen - its just a matter of time!) He's always guaranteed to raise a smile and demand a tickle when you're most short of time.
Post-it notes are his most favourite thing and is why they're our most ordered stationery item.
My favourite quotes:
"Time spent with cats is never wasted." Sigmund Freud
"Cats are connoisseurs of comfort." James Herriot
Who would play you in the movie about your life?
Ricky Purrvais, as when I'm in the office I make people laugh!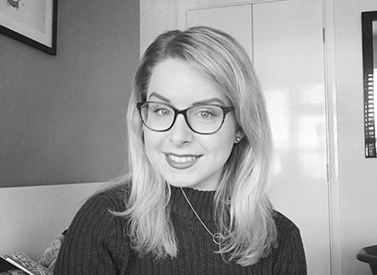 laura slater
SENIOR DESIGNER & SOCIAL MEDIA MANAGER
Since getting her Graphic Communication and Typography degree, Laura has had 6 years of agency experience working with a huge variety of clients and industries, not forgetting her 2 years in pharmaceutical publishing, which means there's more than just creativity in her DNA. She loves helping clients grow their social media presence and thanks to her ongoing work with Beckett's Gin she now mixes a mean cocktail. When not married to her mac, she also designs wedding stationery and has had great success selling on her Etsy shop.
My favourite quote: "If you have good thoughts they will shine out of your face like sunbeams and you will always look lovely." Roald Dahl
Who would play you in the movie about your life? Lady Gaga (as in the A Star is Born Gaga!)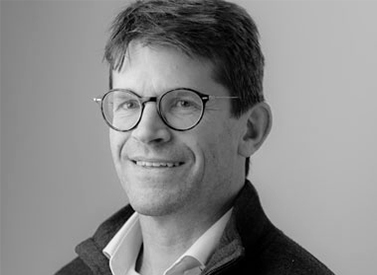 TIM GLYNNE-JONES
COPYWRITER & CONTENT CREATOR
Tim is a wordsmith of some repute, published author and lover of words of all lengths. When clients have all the knowledge, but none of the time to provide content for websites, brochures or other communication pieces, he can be the conduit that keeps the whole process moving and is key to meeting those tight deadlines. He's a musician, organiser, footballer and scooterer (not sure that's a real word...Tim?)
My favourite quote:
"They laughed when I said I was going to be a comedian. They're not laughing now." - Bob Monkhouse
Who would play you in the movie about your life?
Bill Murray (although I do hate repeating myself!)
We Listen
Our first step is to meet you and take the time to learn as much as we can about your business and your requirements. We are not shy about asking probing questions in order to uncover the bigger picture and truly understand your brand and your objectives.
We Explore
We approach every new project with enthusiasm and creativity, using our experience in the business world and the current digital landscape to explore solutions and develop a proposition that will truly connect with your audience and add value to your business.
We create
We thrive on the creative influence and technical expertise that we can deliver for our clients. We take over the full reigns of the project and bring it all to life allowing you to carry on with the every day requirements of your business.
We listen. We explore. We create.