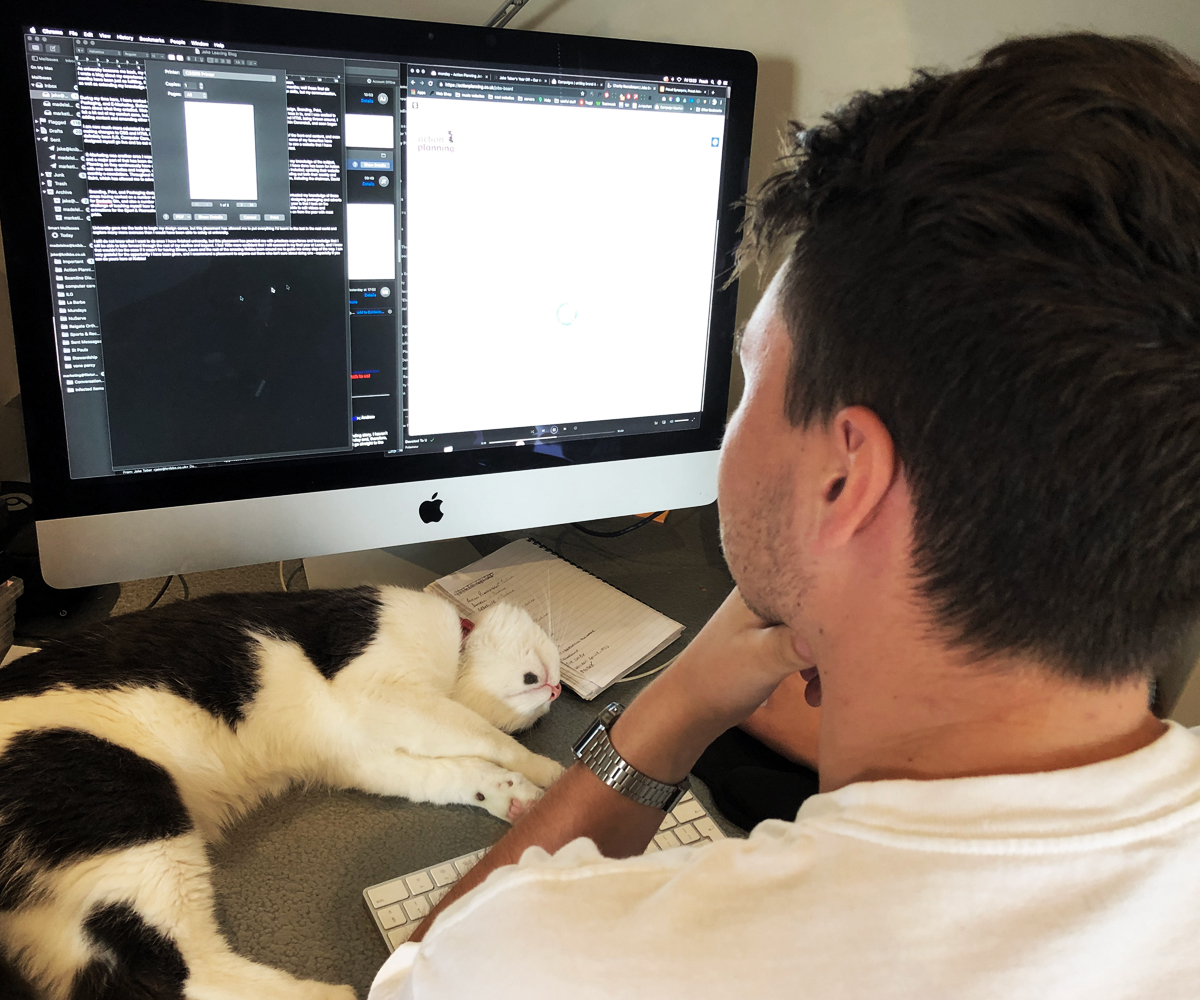 As university beckons me back, my time here at Knibbs has drawn to a close, and I just have to say what a year it has been.
I wrote a blog about my experience when I was at my halfway mark and mentioned how much I had learned in just a few months; well these final six months have been just as fulfilling, if not more. I have learnt an incredible amount this year, not only improving my design skills, but my communication, as well as extending my knowledge on how different businesses operate.
WEB DESIGN
During my time here, I have worked on a variety of design projects that span a number of mediums, including; Web Design, Branding, Print, Packaging, and E-Marketing. Before starting here, Web Design and E-Marketing were the two areas I hadn't dipped my toes in to, and I was excited to learn about what they entailed. Web Design was definitely the more daunting of the two, with phrases like CMS, CSS, and HTML being thrown around, I felt a bit out of my comfort zone, but, after a lot of guidance, I started to be able to navigate my way around websites within Concrete5, and soon began adding content and amending other font-end elements of websites.
I am now much more educated in the world of web design, I'm at a point where I am designing the websites, populating all of the front-end content, and even making changes to CSS and HTML in Dreamweaver. Over the course of the year, I've worked on so many websites, but some of my favourites have definitely been ILG, Computer Care, and one that I designed myself, Amzell. I have found it so satisfying and rewarding to see a website that I have designed myself go live and be out on the web for everyone to see – I have definitely come along way from the day I started.
E-MARKETING
E-Marketing was another area I wasn't familiar with 12 months ago, but in this period of time, I have drastically improved my knowledge of the subject. Over this year I would say the majority of the work I have done has been for Action Planning as they continuously have new content to share. Some of the jobs I've undertaken for this consultancy have included; updating their website with new case studies and insights, designing job application packs to upload to the website, as well as making and sending out both their weekly and monthly e-newsletters. Throughout this time I have been in continuous contact with members of the Action Planning team, including the chairman, David Saint, which has allowed me to advance my communication skills and ability to collaborate with new people.
THE REST
Branding, Print, and Packaging design were already routes that I had explored during my studies, but I have vastly accentuated my knowledge of these areas having worked on a number of projects that have included; Food and drink menus for La Barbe and the Vineking, designing packaging and adverts for Becketts Gin, and also a number of posters and documents for Mundays solicitors. One of the things I am proudest about this year is that I took on the challenge of teaching myself how to use Premiere Pro and After Effects, which ended up working in my favour as I was able to edit videos and animations for the Sport & Recreation Alliance, DynamX, and ILG, with the latter being the piece of work that I look back on from the year with most pride.
AND FINALLY…
University gave me the tools to begin my design career, but this placement has allowed me to put everything I'd learned to the test in the real world and explore many more avenues than I would have been able to just at university.
I still do not know what I want to do once I have finished university, but this placement has provided me with priceless experience and knowledge that I will be able to take forward through the rest of my studies and beyond. I feel 100x more confident that I will succeed in my final year at Leeds, and I know that wouldn't be the case if it wasn't for having Simon, Laura and the rest of the amazing Knibbs team around me to guide me every step of the way. I am very grateful for the opportunity I have been given, and I recommend a placement to anyone out there who isn't sure about doing one – especially if you can do yours here at Knibbs!